Understanding and Collaborating with Customers
Product companies know that they should stay tightly connected to their
customers and prospects. They understand that markets change, needs shift, and competitors keep introducing new solutions. Most companies, however, don't have a process for frequent, unfiltered, high-value interactions with their buying segments. They have not put continuous customer collaboration in place.
To that end, we have partnered with Enthiosys, a leading Agile Product Management consultancy to provide a series of complementary services designed to bring you closer to your customers, reduce product risk, and ensure your product team delivers the most valuable products.
Innovation Games®, developed by Enthiosys, and used by dozens of companies worldwide are a set of proven techniques for working with customers to gain new insights and deeper understanding --- allowing you to create higher value products and services. The chart below matches research objectives with the various games.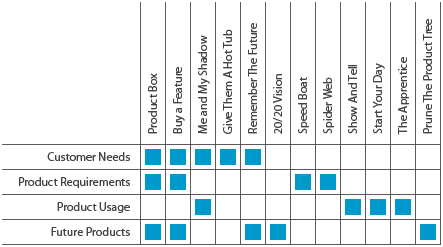 Innovation Games are ideally tailored to match your needs and situation. This can range from managing a multi-city research project, providing facilitation for your internal sessions, or designing an event for a customer user group, conference or symposium.
To learn more about how Innovation Games and other Agile Product Management service offerings contact us.