Agile Product Managemenmt for Dynamics CRM & TFS
Prioritize for Customer Satisfaction and Profit by Creating a Bona Fide Link between Customer Demand and Product Development.
Product Management captures customer feedback to ensure the product team is building the right software. Customer input is transformed to provide product managers with validated and actionable information used to prioritize development. The result not only ensures the most valuable software is built, but also allows your team to adapt to changing business, market and customer requirements.
Our product management solution is comprised of three components (below). For more detail, see features.
1. Product/Feedback Portal:
Captures, refines and self-manages ideas, feedback etc.
Engages community in a continuous dialog with product management
Provides medium for customer-to-customer exchange
Below is a sample idea or feedback site.
2. Product Management Line of Business (LOB) Solution:
Centralizes product requests (e.g., enhancements, new features, etc.)
Facilitates backlog development and grooming and links feedback to features (or epics, themes, user stories, etc.)
Scores and ranks features (i.e., for business value, stakeholder alignment, profitability etc.)
Supports release and sprint (iteration) planning
Provides customer feedback, backlog and activity analytics (e.g., by company, user, segment, category etc.)
Below is a view of the product management portal at the Feature (MMF) level. Notice supporting evidence on the left as well as other linked items.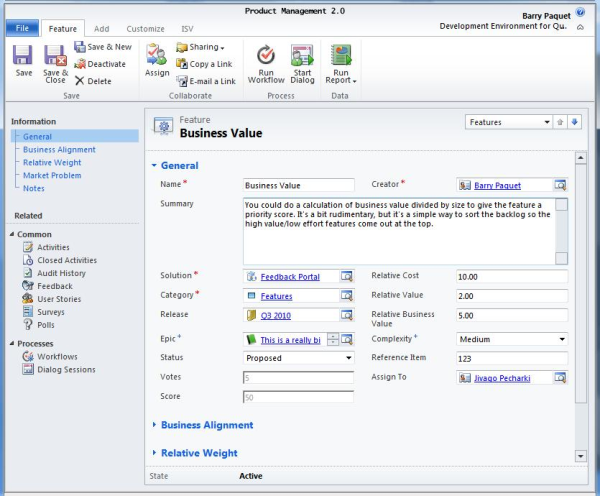 3. Platform Extension, API & SDK:*
CRM (Microsoft Dynamics CRM,

Salesforce

.com, etc.)
ALM (VSTS, Rally,

VersionOne

,

Jira

, etc.)
Visit

features

for more detail