TFS Support Manager (connector) for Dynamics CRM
Software subscriptions are available for 1 or more years (at a discount). All subscription pricing is USD. Spread the news... Email this page link to a colleague. Connect support and development today!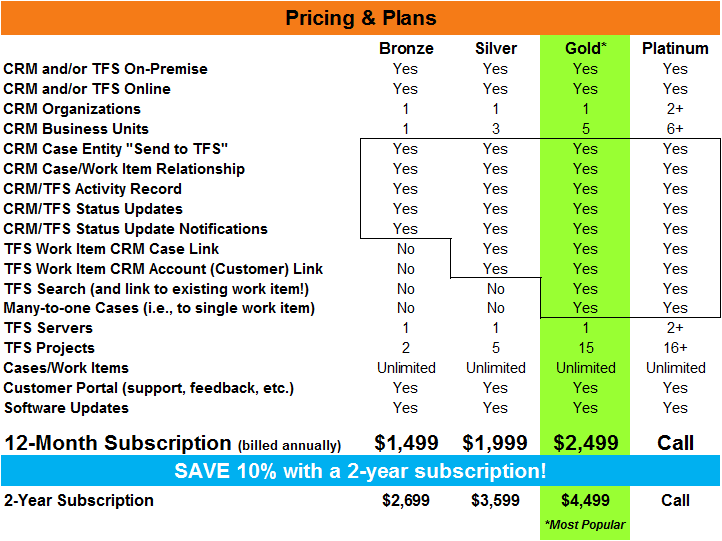 Quotes and invoices are processed automatically and sent via email. If you don't recieve an email shortly after your submission, please check your spam folder. If you still have not received an email, please contact us.
Frequently Asked Questions (FAQs)
Is the software license a perpetual license or a subscription? The software license is a subscription and is renewable annually.
Can I upgrade or downgrade my license subscription? Yes, you may at any time. Simply contact us to communicate you intentions.
What types of payment do you accept? We take Mastercard, Visa, Discover and American Express. We also accept checks and wire transfers.
Do I have to sign a contract? No. You can sign up for any plan at anytime and upgrade or downgrade depending on your needs. You can sign up year-to-year or save nearly 20% by signing up for a multi-year plan.
Do you provide customer support? We offer a variety of support channels: a support site with full documentation, discussion forums, and walk-through videos to help get you started. We also provide email and phone support.
Do you offer a discount for Non-Profits? We offer a 25% discount on all of our plans for certified 501(c)3 organizations.