Quantum Whisper is delighted to announce that we have expanded our training and consulting services to include Scaled Agile Framework. Although our public courses are largely focused on major Canadian cities, we also offer onsite training anywhere in the US and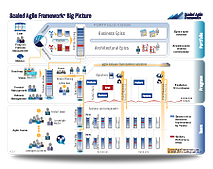 Canada (who are we kidding, we'll even go to Europe!)
If you are not already familiar with it, the Scaled Agile Framework (SAFe) is a proven, publicly available framework for applying Lean and Agile practices at enterprise scale. It combines agile development principles and lean thinking to help synchronize alignment, collaboration and software delivery. To start, we offer the following classes:
Leading SAFe - Leading SAFe is a two-day course which prepares executives, managers, and agile change agents to lead an enterprise transformation by leveraging the Scaled Agile Framework. Leading SAFe is currently available in the following cities…

SAFe ScrumXP - SAFe ScrumXP for Teams is a two-day course which teaches Lean thinking tools, roles, processes, and the software engineering practices necessary to achieve the code quality you need to scale Scrum in yourenterprise business context. This course is not yet open to the public but is immediately available for private training.
Based on our own experience in the field, we found that although most companies have adopted agile at the team level, many struggle to scale agile to the enterprise. The Scaled Agile Framework will not only optimize agile at the program level but the executive suite as well.
Let us know what you think and how we can help!